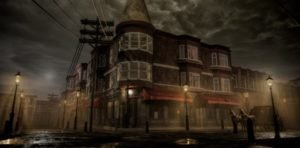 Chicago. Año 1893
The First American World Fair is about to inaugurate. A modest medieval fortress-like hotel is the only one with rooms available: you have just entered the World's Fair Hotel. Its owner, Herman Webster Mudgett, also known as Dr. H.H. Holmes, is the only one who knows the chilling details that the strange building hides.
The hotel hides rooms without windows, suffocating corridors, hatches on the floor and ceiling, camouflaged gas pipes: architecture designed by H.H. Holmes himself to capture, torture and kill its guests.
You, naive to what the hotel hides, decide to enter to reserve a room. At the reception you have been separated of your peers and soon you will discover that it is not just an ordinary hotel.
You will have 60 minutes to escape the macabre hotel if you do not want to be the next victim of Dr. Holmes.
DO YOU DARE?
For reservations less than 3 hours in advance, please contact 0034 654 952 690